When deciding to lose weight, how do you know what the best diet plan for you might be? Everyone has different reasons for eating and for their weight gain, so no one diet will fit everyone. Some people are so busy they skip breakfast and lunch and end up eating anything they can find when they get home, while others eat 3 meals a day. Others eat all evening. Some dieters have a fast metabolism and others a slow metabolism. Some dieters are good at counting and weighing foods. Some like to prepare recipes while others like the convenience, price and taste of fast food restaurants.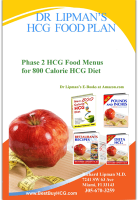 Weight loss plans need to be chosen based on many personal preferences Where do you start? There are as many diets as there are books in a small library. Do you buy prepared food; take pills or shakes or bars? Some diets use weight loss supplements to increase energy and reduce appetite, others use shakes and bars to achieve the same purpose. And by far the most important aspect of choosing the right diet for you is that it must have food you like, is easy to find, that you can afford to buy on a regular basis, and that is convenient to your lifestyle.
Most dieters are successful when they lose weight fast. Losing weight quickly makes a noticeable difference and offers the dieters the important feedback and encouragement from family and friends that is so critical to sticking with a diet.
Major Considerations in Picking a Diet Plan
What are your goals: fast or slow weight loss?
How much time do you have for physical exercise? Do you like exercise?
Do you want to prepare special foods?
Can you afford prepared meals?
Successful Dieters Have Some Common Traits
Most dieters do not skip breakfast
Most dieters do not go to fast food restaurants more than 1-2 times a month
Most dieters learn how to control their hunger
Most dieters make a commitment to health and exercise
Excluding diets that rely on shakes, bars and prepared foods, most diet plans today use lean protein and lots of fresh vegetables and fruits. The next choice is between low carb and low-fat. This is a big decision which should not be taken lightly. Some dieters simply cannot give up the carbs. Others realize the carbs make them hungry and the proteins make them feel full. (Read more about high protein in weight loss).
The HCG Food Plan offers rapid weight loss that is easy, effective and very safe. My patients can lose 5-6 lbs. per week without hunger, cravings or killer workouts.
First Decision: Is the HCG Diet For You?
Whether you are going to use the 500 calorie HCG diet or the newer versions of the 800 calorie HCG diet, the first step is to decide if you can reduce your carbs to the low levels required. Both of these plans forbid rice, pasta, potatoes, chips, sugar, certain fruits, desserts, cooking oils, fatty meats, sugar in all forms, bread and all cereals. For some people this is a very significant and difficult change in their foods. On the other hand, many of my patients can make the change when they see how much weight they can lose. Most patients can easily lose between 5 to 7 lbs per week with a marked reduction in hunger and cravings, and without the need for much exercise (however, exercise is encouraged).
While there are a lot of food choices in the 800 calorie HCG diet, they may be much different from the foods you are used to eating.
Second Decision: Do You Want to Follow the 500 or 800 Calorie HCG Plan?
I have seen no differences in rates of weight loss, total weight loss or degree of hunger between the two different plans. The 800 calorie plan has a full breakfast, numerous snacks, 3 fruits a day and the newly introduced low-calorie/low carb wraps for lunch. Since there are no differences in weight loss results, why not use the higher calorie level diet?
The 500 calorie diet is based on Dr Simeons' plan from 1953 and has never been updated in almost 60 years! You can follow the 500 Calorie HCG plan on many websites not authored by physicians.
Third Decision: Which 800 Calorie HCG Plan Do You Want to Follow?
Obviously, I feel the HCG plan presented on this website is far better than any other one. Let me explain why I feel this way. The diet is based on food choices that have been tested in thousands of overweight patients in my private practice in Miami, FL and in patients throughout the country who have called in with their suggestions. We carefully evaluate every low-calorie product that has little to no sugar and no fat to see if its HCG friendly.
How do we do this? First, we examine the contents of the product from the nutritional label. Then we look up the glycemic index and glycemic load. After that, we look up any nutritional studies we can find about the product. We call this our product screen. If the product has 1. Easy portion control, 2. total fat less than 3 grams per portion and, 3. total sugar less than 2 grams per portion then we try it on our HCG patients. Testing the product on half-dozen patients gives us a good idea if it will work on the HCG diet. We monitor the patients' weight, hunger and cravings while they are taking the new product. The patient is also testing urine ketones for fat burning. If the product makes them more hungry or if the ketone test results turn negative, the new product is eliminated.
Using these methods, we have added many products that are very low-calorie, have little to no sugar or carbs, and very little fat to Dr. Simeons's original HCG diet. This has raised the calorie count from 500 to 800 calories. We have seen no change in the weight loss or hunger with these additions.
If you examine the 800 calorie HCG diet on other web sites you will not find these products. You will see only slight modifications of the original Simeons plan with larger portions.
800 Calorie Food Plan for Dr Lipman's HCG Diet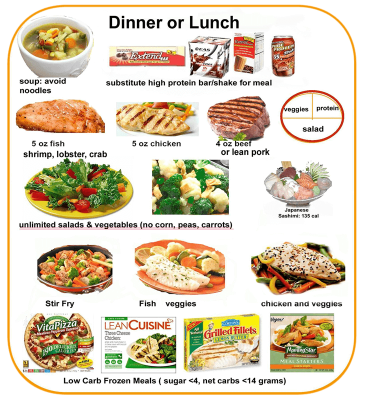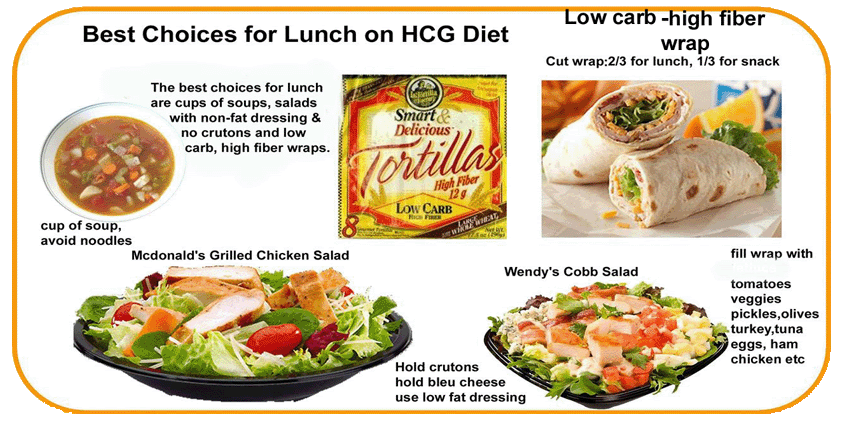 Here are some of the great lunch selections on the 800 Calorie HCG Diet. You can have a protein bar or shake if you are in a hurry or a lunch with beef, vegetables and soup. Vegetables are just about unlimited. Every fast food restaurant has salads which can easily be modified by eliminating the dressing, fried protein and croutons. McDonald's grilled chicken salad featured in the above image works out well. A favorite of my patients are the wraps. Two low carb wraps are suggested: the Tortilla Factor Low Carb or the Flat Outs. Both have equal calories, almost no net carbs, and 0 to 1 sugar. Many things can be done with wraps.
Fourth Decision: Which HCG Kit is Right For You?
Now that you know the benefits of our HCG plan, the only decision left is selecting the right HCG drops kit for you. The kit below is enhanced with amino acids to increase fat burning and Irvingia Gabonensis to naturally control appetite. It's a great choice for many dieters.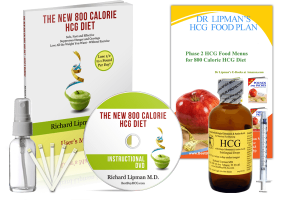 Superior HCG with Amino Acids & African Mango
If you have certain health concerns, have recently tried another HCG protocol, are on medication, or want to see the full range of kits available, you can find the best kit for you by using our Product Selector Tool.