Do you have trouble balancing the responsibilities of work and family while trying to lose weight and get healthy? You are not alone. Many working moms feel the pressure of filling the needs of everyone else in their lives while trying to find time to take care of themselves. But that is exactly what you have to do. You can't effectively take care of others if you aren't well yourself.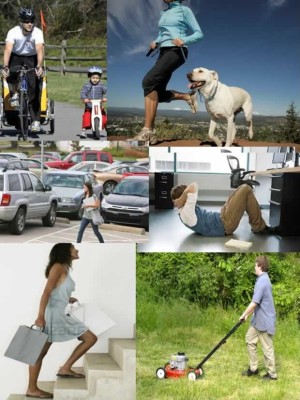 Let's consider Amy, a 220-pound mom of three with a sedentary job as a legal secretary. She is diabetic, has high blood pressure and needs to lose about 100 pounds. She's the average overburdened woman in her 30's who finds it difficult making time for herself, let alone committing to an exercise program.
Does this sound familiar? Well, there are a few things someone in this position can do to incorporate exercise into their lives to lose weight and improve their health.
Schedule exercise like an appointment: The first option is to make exercise your time. Schedule it like an appointment. Don't let anything interrupt this time. If it means getting up early in the morning before the rest of your family to workout, so be it. If you need help staying accountable, find a workout buddy or hire a personal trainer. It's more difficult to tell someone else that you aren't showing up to the gym. If you go it alone you are much more likely to blow off your gym time when life gets distracting.
Move About a Bit More: Also remember that the little things add up. You don't have to do an hour of consecutive exercise every day to see results. The more you are able to get up and move around throughout the day, the more calories you will burn. Take the stairs whenever possible, hand deliver notes to people within the office rather than sending them an email and use your lunch hour to get in a walk or some other type of exercise.
Incorporate your kids into your routine: Get active together by chasing them around at the park or by walking or jogging together (younger kids can be pushed in a stroller or jogger.) Kids can also be used as weights, depending on their size. You can practice squatting with a child in your arms, lift them off the ground and into the air so your arms are fully extended above your head or pull them along behind you in a wagon for extra resistance while walking or hiking.
Many gyms also provide a daycare for younger children: You can exercise in the evenings as well. Make weekends about family fitness. Go swimming, play ball work in the garden together or try new things that everyone can enjoy. You'll find that once you adjust to being more active it can be a good source of stress relief.
In order for Amy (and others like her) to lose the extra weight, reverse the signs of diabetes and lower blood pressure, it's essential to follow a healthy diet and make lifestyle changes she can stick with. Finding balance between work, home, kids and fitness is important for overall success. The HCG Diet makes it easier to lose the weight you want to lose, and adding exercise to your routine can supercharge it's power.