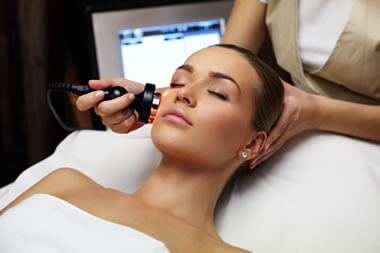 Dalini offers a selection of anti-aging facials for both women and men that revitalize and refresh your skin using exclusively all natural Yon-Ka skin care products.
---
Many of our facials feature microcurrent technology. During a microcurrent treatment, mild electrical pulses are delivered to stimulate the skin and tone the facial muscles. The current is believed to boost collagen production to tighten the skin, reduce the appearance of lines, and increase circulation to give the skin an overall feeling of rejuvenation.
We invite you to browse our menu to select the perfect anti-aging facial for your skin.
---

Age Prevention
This anti-aging, antioxidant and Anti-pollution facial is the perfect facial if you're in your 20's and 30's. Reduces signs of aging and encourages flawless radiant skin.
Alpha Hydroxy Facial
A radiance-enhancing and resurfacing treatment. This magnificent fruit acid facial uses organically sourced AHA-BHA from natural fruits. This facial will improve skin roughness by restoring healthy cell renewal cycle.
Revitalizing Facial
This cellular exchange facial counteracts the signs of aging and fatigue (wrinkles and fine lines), it encourages renewal for radiant and flawless skin. This rejuvenating anti-aging facial utilizes Yonka's wealth of skin regeneration oils and creams.
Firming and Lifting Facial
This uplifting and firming facial utilizes phyto-biological ingredients to help release your skins full potential. Special needs require special treatments. The complexion is fabulously strengthened with improved definition and skin tone.
---
Restructuring Facial
Using the latest Yon-Ka cutting edge products for smoothing and restructuring, this anti-aging treatment is luxurious and lavish. This facial will encourage elasticity and a youthful radiance.
Microcurrent Stimulation Facial
Microcurrent therapy emits an electrical current at the same frequency as the cells in our body; it heals, stimulates collagen and encourages skin rejuvenation. The gentle microcurrent will heal you, while you experience a calming aromatic journey.
Ultimate Age Defying Facial
The ultimate in facial revitalization without surgery. This non-invasive Bio-Ultimate Age Defying Facial series is a complete and comprehensive service that targets fine lines and wrinkles, improves skin tone and elasticity, and offers intense hydration. Maintenance services are recommended monthly for longevity of results.
Series of 5: $645
Series of 10: $1350
Maintenance: $145.00