Vegetarian Diet Plan for Weight Loss
Weight Loss for Vegetarians Does Not Have to Be Difficult!
Discover your diet secrets and trigger foods

Learn the best non-animal lean protein sources

Prevent hunger and cravings

Lose weight without counting, weighing, or buying expensive branded prepared meals
My vegetarian diet plan for weight loss is an offshoot of my Miami Diet Plan. It starts with a medical evaluation, lab tests, and metabolic profile. It also includes a discussion to discover your diet secrets. By eliminating a few bad foods, we can help you lose weight as a vegetarian or vegan. We also help you avoid and replace some so-called "healthy" food that is really just loaded with carbs and causing weight gain. Weight loss medication is also available on this plan.
Vegetarian diets for weight loss have become very popular in South Florida. This is especially true with the South Beach crowd that is into organic and healthy food and lifestyles. There are more than 30 vegan restaurants and that many markets between Key West and Palm Beach! Even for vegans that eat large amounts of carbohydrates, weight loss does not have to be difficult. The problem is usually finding low calorie non-animal protein sources and watching saturated fats and sugar.
Vegetarians, Health, and Weight Loss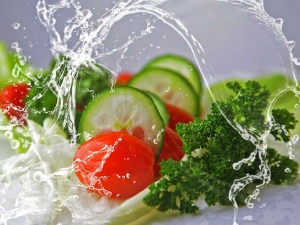 Overall, vegetarians and vegans are less likely to be overweight and generally have lower blood pressure, triglycerides and cholesterol than meat eaters. However, overweight and obesity does exist in the vegetarian population. This happens despite all of the low-calorie foods available. Some vegetarians and vegans eat large amounts of carbs and do have weight problems. Vegetarian and vegan prepared foods in general contain just as much sugar as traditional non-vegetarian varieties.
Many people do not compensate for the vitamins and minerals they are not receiving after eliminating meat and dairy. Some do not have a sufficient intake of complete proteins or enough complimentary protein sources that form a complete protein when consumed together. Some vegans and vegetarians believe that due to their strict choice of diet that does not include high-fat meat, they can eat more processed foods. That's why a well-rounded vegetarian diet plan for weight loss guided buy a health care professional is so important.
There are very few good vegan and vegetarian diets for weight loss. Although not a vegan diet, Weight Watchers can be adapted to the vegan lifestyle. Since the emphasis is on fruits and vegetables with low points, there is a lot of food from which one can choose. However, it really is not the best choice for weight loss.
Dr. Lipman's Food Suggestions for His Miami Vegan and Vegetarian Diet Plan
Fruits (5 per day): apples, peaches, all berries, pears, oranges, grapefruits, tangerines, cantaloupes, nectarines, (limes and lemons are free). Berry portions are 1/2 cup.
Seasonings (unlimited): lemon, garlic, thyme, parsley, plum vinegar, apple cider vinegar, sea salt, basil, pepper, balsamic vinegar, garlic salt
Vegetables (unlimited): spinach, lettuce, cucumbers, cabbage, tomatoes, asparagus, onions, celery, broccoli, radishes, kale, Brussels sprouts, green beans, mushrooms, peppers, zucchini, cauliflower, dill pickles, bean sprouts, beets, squash, egg plant, bok choy, pumpkin
Beverages: diet sodas, green tea, black tea, carbonated water, coffee, tea, crystal light, Diet V-8 Splash, Lactose free soy milk or Almond milk permissible in small quantities, PowerAde Zero (like Gatorade® with no sugar)
Salad dressings: Wishbone or Ken's low fat dressings, Walden Farms No Calorie-No Fat-No sugar dressing, NO OLIVE OIL
Condiments and Additives: Equal, Splenda, Stevia, Heinz reduced sugar Ketchup, soy, Tabasco, Picante, horseradish, PAM and other no calorie aerosol based cooking sprays, pickles, olives, sugar free salsa, soy mayonnaise
Noodles: Vegetable rice, pasta, and potatoes made from Zuchini, Caulflower and/or lentils; Miracle noodles, Shirataki noodles (usually found in the produce section of the supermarket since they must be kept cold)
Crackers (3 a day): Melba toasts, Grissini breadsticks, Wasa, Finn, Gilda toasts, Flatout Light wrap (a no sugar, no fat, high protein wrap), La Tortilla Factory Low Carb Wraps, a few low carb breads: 40 calories, 5 net carbs/slice.
Snacks: Soy Crisp Chips, Walden Farms Spreads, Sugar free popsicles, Hummus (watch the amount of olive oil–Weight Watchers has a low calorie, low olive oil recipe), vegetarian cheese
Call 305-670-3259 to Make an Appointment with Dr. Lipman in his Miami Office